Non insulated Spade terminals
Sodd Non insulated Spade terminals are made of high-quality, oxygen-free copper with tin-plating to defense against corrosion, mechanical stress or tension.
This kind of Non insulated Spade terminals is effortless to be connected to a wire by a standard crimper.
Spade Terminal Type
PVC Spade Terminal
Nylon Spade Terminals
Heat Shrink Spade Terminal
Non-insulated Spade Terminals
Sodd Non insulated Spade terminals have many insulation types due to the insulation material changes in different using places.
The Vinyl insulated terminal is the most popular type among all the types.
Nylon fork terminals are convenient for use because wires can be seen clearly through the insulation.
Heat shrink fork terminal can have the function of water-proof.
Double crimp fork terminals with extra sleeves help your wire to connect the terminals more solidly.
Material
Terminal Body:Copper
Brazed Seam
Plating:Tin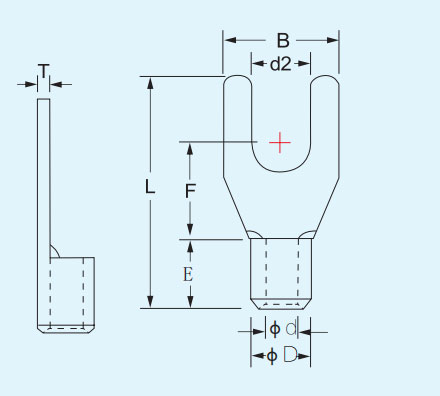 | | | | | | | | |
| --- | --- | --- | --- | --- | --- | --- | --- |
| spec(mm²) | 1.25 | 2 | 3.5 | 5.5 | 8 | 14 | 22 |
| Max current(A) | 19 | 27 | 37 | 48 | 62 | 88 | 15 |
Surface treatment: tin coating
Cable Size
ITEM NO.
size(mm)
pcs/pack
d2
B
F
L
E
D
d
T
A.W.G. 22-16
0.5 ~ 1.5mm2
DSNB1.25-3
3.2
5.5
6.5
16
5
3.5
2
0.75
1000
DSNB1.25-3.5S
3.7
5.5
1000
DSNB1.25-3.5L
3.7
6.5
1000
DSNB1.25-4S
4.3
6.5
1000
DSNB1.25-4M
4.3
7
1000
DSNB1.25-4L
4.3
8
1000
DSNB1.25-5S
5.3
8
1000
DSNB1.25-5L
5.3
9.5
1000
DSNB1.25-6S
6.4
9.5
1000
DSNB1.25-6L
6.4
12
11
22
1000
A.W.G.16 ~ 14
1.5~2.5mm2
DSNB2-3
3.2
5.5
6.5
16
5
4
2.5
0.8
1000
DSNB2-3.5S
3.7
5.5
1000
DSNB2-3.5L
3.7
7
1000
DSNB2-4S
4.3
6.5
1000
DSNB2-4M
4.3
7
1000
DSNB2-4L
4.3
8
1000
DSNB2-5S
5.3
8
1000
DSNB2-5L
5.3
9.5
1000
DSNB2-6S
6.4
9.5
1000
DSNB2-6L
6.4
12
11
22
1000
A.W.G.14 ~ 12
2.5 ~ 4mm2
DSNB3.5-3
3.2
5.5
7
18.5
6
5
3
1
1000
DSNB3.5-4
4.3
8
1000
DSNB3.5-5
5.3
8
1000
DSNB3.5-6
6.4
12
9
21.5
1000
A.W.G.12 ~ 10
4 ~ 6mm2
DSNB5.5-3.5
3.7
8.5
7.5
19.5
7
5.5
3.5
1
1000
DSNB5.5-4S
4.3
8.5
1000
DSNB5.5-4L
4.3
9.5
1000
DSNB5.5-5
5.3
9
1000
DSNB5.5-6S
6.4
9
1000
DSNB5.5-6L
6.4
12
12
25.5
1000
DSNB5.5-8
8.4
14
11.5
24.5
1000
A.W.G.8
8mm2
DSNB8-4
4.3
8.5
9
23.5
8.5
7
5
1.2
500
DSNB8-5
5.3
11.5
8.5
24.5
500
DSNB8-6
6.4
11.5
8.5
24.5
500
DSNB8-8
8.4
14.5
12
28.5
500
A.W.G.6
14mm2
A.W.G.4 22mm2
DSNB14-5
5.3
11
11
29
10.5
9
6
1.4
500
DSNB14-6
6.4
12
10
28.5
500
DSNB14-8
8.4
13.5
11
28.5
500
DSNB22-8
8.4
14
13
34.5
12
11.5
8
1.8
500