Non insulated Ring terminals
Sodd Non insulated Ring terminals connect one or two wires into a single point. The terminal is made by 99.99% high purity copper for good conductivity and has tin plating for corrosion resistance. Material for copper and insulation part is environmentally friendly, no-halogen, and high temperature resistant.
Ring Terminal Type
PVC Ring Terminal
Nylon Ring Terminal
Heat Shrink Ring Terminal
Non-insulated Ring Terminal
Sodd Ring terminal has many types because of the insulation material changes in different applications.
PVC ring terminal is the most commonly used one, Nylon ring terminal is for Flame-retardant and fireproof applications.
Heat shrink ring terminals are for water-proof applications.
Double crimp ring terminals with extra sleeves are for double crimping.
Advantage of Sodd Ring Terminals
1. Sodd ring terminals are pre-insulated with PVC, Nylon and heat shrink on the barrel, suitable for all using place.
2. Sodd Crimp Terminals are constructed of high-quality, oxygen-free copper with tin plating to make it corrosion resistance.
3. Sodd terminals thickness is more than normal terminal's thickness to make it good quality.
4. Sodd terminals are fire-proofed to keep it safe during usage.
Sodd Ring Terminals Use place
Insulated ring terminals and non-insulated ring terminals are widely used in the following places:
1. Automotive
Aftermarket audio or video
Aftermarket wiring harnesses
2. Consumer
Appliances / white goods
Consumer electronics / brown goods
3. Industrial applications
Terminal blocks, Sockets, circuit breaker
Wiring harnesses
4. Industrial Automation
Electrical panels
This is not a definitive list of applications for this product. It represents some of the more common uses.
How the Ring Terminals Worked:
Step 1: Strip the wire into a proper length
Step 2: Insert the terminals and wire into the proper gauge cavity and squeeze the crimper to crimp the wire part fully.
Step 3: after crimping the terminals to the wires, collect the ring part to a stud size bolt or using a screw, fix the ring stud part.
Data Sheet of Ring Terminal
PVC Material: Copper, PVC
Operating voltage: 600V
Temperature withstand: 75℃
Surface treatment of brass parts: tin coating
The terminal body: Copper or Brass material,with Tin plating.
The sleeve:Red/Blue/Black/Yellow etc color.
Certificates: ISO9001,CE,ROHS.
Package:100pcs or 1000pcs in bag, box/bag/plastic box outside package.
Features:Fireproof,Insulate,Easy to use
Offer OEM&ODM service.
Material
Terminal Body:Copper
Brazed Seam
Plating:Tin
Material: Copper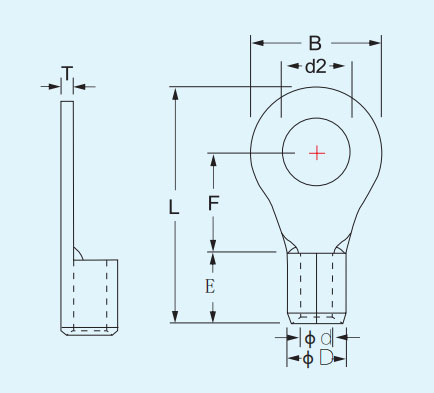 | | | | | |
| --- | --- | --- | --- | --- |
| spec(mm²) | 1.25 | 2 | 3.5 | 5.5 |
| Max current(A) | 19 | 27 | 37 | 48 |
Surface treatment: tin coating
Size
ITEM NO.
size(mm)
pcs/pack
d2
B
F
L
E
D
d
T
A.W.G. 22-16
0.5 ~ 1.5mm2
DRNB1.25-3
3.2
5.5
5
12.5
5
3.5
2
0.75
1000
DRNB1.25-3.5S
3.7
5.5
5
12.5
1000
DRNB1.25-3.5M
3.7
6.5
6
14.5
1000
DRNB1.25-4S
4.3
6.5
6
14.5
1000
DRNB1.25-4L
4.3
8
7
16
1000
DRNB1.25-5
5.3
8
7
16
1000
DRNB1.25-5L
5.3
10
8
18
1000
DRNB1.25-6S
6.4
10
8
18
1000
DRNB1.25-6
6.4
11.5
11
22
1000
DRNB1.25-8
8.4
11.5
11
22
1000
DRNB1.25-10
10.5
13.5
14
25.5
1000
DRNB1.25-12
13
19
14
30.5
1000
A.W.G.16 ~ 14
1.5~2.5mm2
DRNB2-3
3.2
6.5
4.5
13
5
4
2.5
0.8
1000
DRNB2-3.5S
3.7
6.5
4.5
13
1000
DRNB2-3.5M
3.7
6.5
6
14.5
1000
DRNB2-4S
4.3
6.5
6
14.5
1000
DRNB2-4L
4.3
8.5
8
17
1000
DRNB2-5S
5.3
8.5
8
17
1000
DRNB2-5L
5.3
9.5
7.5
17
1000
DRNB2-6
6.4
12
11
22
1000
DRNB2-8
8.4
12
11
22
1000
DRNB2-10
10.5
13.5
14
25.5
1000
DRNB2-12
13
19
16
30.5
6
5
3
1
1000
A.W.G.14 ~ 12
2.5 ~ 4mm2
DRNB3.5-4
4.3
8
8
18
1000
DRNB3.5-5S
5.3
8
8
18
1000
DRNB3.5-5L
5.3
12
9.5
21.5
1000
DRNB3.5-6
6.4
12
9.5
21.5
1000
DRNB3.5-8
8.4
15
13.5
27
1000
DRNB3.5-10
10.5
15
13.5
27
1000
DRNB3.5-12
13
20
15.5
31.5
1000
A.W.G.12 ~ 10
4 ~ 6mm2
DRNB5.5-3.5
3.7
7
6
16.5
7
5.5
3.5
1
1000
DRNBS5.5-4
4.3
7
6
16.5
1000
DRNBL5.5-4
4.3
9.5
8
20
1000
DRNB5.5-5
5.3
9.5
8
20
1000
DRNB5.5-6
6.4
12
10.5
23.5
1000
DRNB5.5-8
8.4
15
13.5
27.8
1000
DRNB5.5-10
10.5
15
13.5
27.8
1000
DRNB5.5-12
13
19
16
32.5
500
| | | | | |
| --- | --- | --- | --- | --- |
| spec(mm²) | 8 | 14 | 22 | 38 |
| Max current(A) | 125 | 88 | 115 | 160 |
Cable Size
ITEM NO.
Size (mm)
pcs/pack
d2
B
F
L
E
D
d
T
A.W.G.8
8mm2
DRNB8-4
4.3
8.8
10.5
23.5
8.5
7
5
1.2
500
DRNB8-5S
5.3
8.8
10.5
23.5
500
DRNB8-5M
5.3
12
9
23.5
500
DRNB8-5L
5.3
15
14
30
500
DRNB8-6S
6.4
12
9
23.5
500
DRNB8-6L
6.4
15
14
30
500
DRNB8-8
8.4
15
14
30
500
DRNB8-10
10.5
15
14
30
500
DRNB8-12
13
22
15
34.5
500
A.W.G.6
14mm2
DRNB14-4
4.3
12
13.5
29.5
10.5
9
6
1.4
500
DRNB14-5
5.3
12
13.5
29.5
500
DRNB14-6S
6.4
12
13.5
29.5
500
DRNB14-6L
6.4
16
14
32.5
500
DRNB14-8
8.4
16
14
32.5
500
DRNB14-10
10.5
16
14
32.5
250
DRNB14-12
13
22
19.5
41
250
DRNB14-16
17
30
25.5
51
250
A.W.G.4
22mm2
DRNB22-5S
5.3
12
14.5
32.5
12
11.5
8
1.7
250
DRNB22-5L
5.3
16.5
13.5
33.5
250
DRNB22-6S
6.4
12
14.5
32.5
250
DRNB22-6L
6.4
16.5
13.5
33.5
250
DRNB22-8
8.4
16.5
13.5
33.5
250
DRNB22-10
10.5
16.5
13.5
33.5
250
DRNB22-12
13
22
19.5
42.5
250
DRNB22-14
15
30
25
52
100
DRNB22-16
17
30
25
52
100
A.W.G.2
38mm2
DRNB38-5
5.3
15.5
18.5
40
14
13.5
9.5
1.8
200
DRNB38-6
6.4
15.5
18.5
40
200
DRNB38-8S
8.4
15.5
18.5
40
200
DRNB38-8L
8.4
22
17.5
42.5
200
DRNB38-10S
10.5
15.5
18.5
40
200
DRNB38-10L
10.5
22
17.5
42.5
200
DRNB38-12
13
22
17.5
42.5
200
DRNB38-14
15
30
24
52.5
100
DRNB38-16
17
30
24
52.5
100
| | | | | |
| --- | --- | --- | --- | --- |
| spec(mm²) | 60 | 70 | 80 | 100 |
| Max current(A) | 215 | 235 | 255 | 300 |
Cable Size
ITEM NO.
Size (mm)
pcs/pack
d2
B
F
L
E
D
d
T
A.W.G. 1/0 60mm2
DRNB60-6
6.4
22
20.5
49.5
18
15.5
11.5
1.8
100
DRNB60-8
8.4
100
DRNB60-10
10.5
100
DRNB60-11
11.5
100
DRNB60-12
13
100
DRNB60-14
15
32
23.5
57.5
100
DRNB60-16
17
100
DRNB60-18
19
100
DRNB60-20
21
100
DRNB60-22
23
100
A.W.G. 2/0 70mm2
DRNB70-6
6.4
24
20
51
19
17.5
13.5
1.9
100
DRNB70-8
8.4
100
DRNB70-10
10.5
100
DRNB70-11
11.5
100
DRNB70-12
13
100
DRNB70-14
15
32
26
61
50
DRNB70-16
17
50
DRNB70-18
19
50
DRNB70 - 20
21
50
DRNB70-22
23
50
A.W.G 3/0 80mm2
DRNB80-6
6.4
27
20
54
20
19.5
15
2.2
50
DRNB80-8
8.4
50
DRNB80-10
10.5
50
DRNB80-11
11.5
50
DRNB80-12
13
50
DRNB80-14
15
32
32
68
50
DRNB80-16
17
50
DRNB80-18
19
50
DRNB80-20
21
50
DRNB80-22
23
50
A.W.G. 4/0 100MM2
DRNB100-6
6.4
28.5
20.5
55.5
21
22
17
2.5
50
DRNB100-8
8.4
50
DRNB100-10
10.5
50
DRNB100-11
11.5
50
DRNB100-12
13
50
DRNB100-14
15
32
32
69
50
DRNB100-16
17
50
DRNB100-18
19
50
DRNB100-20
21
50
DRNB100-22
23
50
| | | | | |
| --- | --- | --- | --- | --- |
| spec(mm²) | 150 | 180 | 200 | 325 |
| Max current(A) | 395 | 440 | 470 | 650 |
Cable Size
ITEM NO.
Size (mm)
pcs/pack
d2
B
F
L
E
D
d
T
A.W.G.8
8mm2 A.W.G.6
14mm2
DRNB 150-8
8.4
36
23
66
27
26.5
20
3.2
25
DRNB 150-10
10.5
25
DRNB 150-11
11.5
25
DRNB 150-12
13
25
DRNB 150-14
15
25
DRNB 150-16
17
25
DRNB 150-18
19
36
36
81
25
DRNB 150-20
21
25
DRNB 150-22
23
25
DRNB 150-24
25
25
DRNB 150-27
28
25
A.W.G.4
22mm2
DRNB 180-8
8.4
38.5
24.5
72
28.5
28.5
21.5
3.5
25
DRNB 180-10
10.5
25
DRNB 180-11
11.5
25
DRNB 180-12
13
25
DRNB 180-14
15
25
DRNB 180-16
17
25
DRNB 180-18
19
38.5
39
86.5
25
DRNB 180-20
21
25
DRNB 180-22
23
25
DRNB 180-24
25
25
DRNB 180-27
28
25
A.W.G.2
38mm2
DRNB 200-8
8.4
44
24.5
78
31.5
32.5
25
3.9
10
DRNB 200-10
10.5
10
DRNB 200-11
11.5
10
DRNB 200-12
13
10
DRNB 200-14
15
10
DRNB 200-16
17
10
DRNB 200-18
19
44
37.5
91
10
DRNB 200-20
21
10
DRNB 200-22
23
10
DRNB 200-24
25
10
DRNB 200-27
28
10
A.W.G. 500/ 600MCM 325mm2
DRNB 325-8
8.4
50.5
33.5
94
35.5
37
28.5
4.2
10
DRNB 325-10
10.5
10
DRNB 325-11
11.5
10
DRNB 325-12
13
10
DRNB 325-14
15
10
DRNB 325-16
17
10
DRNB 325-18
19
50.5
45
105.5
10
DRNB 325-20
21
10
DRNB 325-22
23
10
DRNB 325-24
25
10
DRNB 325-27
28
10