Non insulated butt connectors
Sodd Non insulated butt connectors are the most popular connectors in 2018, especially heat shrink butt connectors in kit packing. This heat shrink butt connector kits are hot sale in Alibaba, Taobao, Amazon, eBay, and many other online shops.
Sodd Non insulated butt connectors offers a wide choice range from vinyl insulation to heat shrink insulation to fit different places.
Heat shrink butt connectors are used in boats, vehicles, homes and scientific projects.
Our heat shrink butt connectors provide you with strong crimps, increased current flow, and waterproof connection.
Material: Copper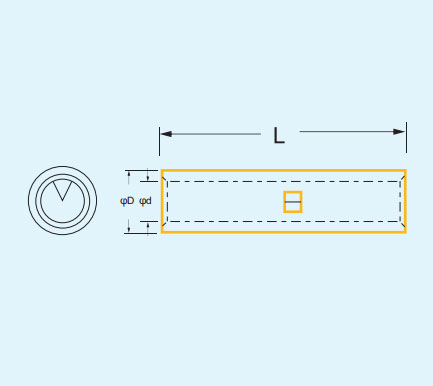 | | | | | | | | | | | | | | | | | | |
| --- | --- | --- | --- | --- | --- | --- | --- | --- | --- | --- | --- | --- | --- | --- | --- | --- | --- |
| spec(mm²) | 0.5 | 1.25 | 2 | 3.5 | 5.5 | 8 | 14 | 22 | 38 | 60 | 70 | 80 | 100 | 150 | 180 | 200 | 325 |
| Max current(A) | 9 | 19 | 27 | 37 | 48 | 62 | 88 | 115 | 160 | 215 | 235 | 255 | 300 | 395 | 440 | 470 | 650 |
Surface treatment of brass parts: tin coating
Cable Size
ITEM NO.
Size (mm)
pcs/pack
L
D
d
A.W.G. 26-22 0.2~0.5mm2
DBN0.5
12
2
1.5
1000
A.W.G. 22-16 0.5-1.5mm2
DBN 1.25
15
3.5
2
1000
A.W.G. 16-14 1.5-2.5mm2
DBN2
15
4
2.5
1000
A.W.G. 14-12 2.5~4mm2
DBN3.5
15
5
3.5
1000
A.W.G. 12-10 4~6mm2
DBN5.5
15
5.5
4
1000
A.W.G. 8 8mm2
DBN8
21
7
5
500
A.W.G. 6 14mm2
DBN14
26
9
6.5
500
A.W.G. 4 22mm2
DBN22
29
11.5
8.5
250
A.W.G. 2 38mm2
DBN38
32
13
10
200
A.W.G. 1/0 60mm2
DBN60
35
14.5
11.5
100
A.W.G. 2/0 70mm2
DBN70
37
16
12.5
100
A.W.G. 3/0 80mm2
DBN80
38
18
14
100
A.W.G. 4/0 100mm2
DBN 100
38
20.5
16
100
A.W.G. 250/300MCM 150mm2
DBN 150
54
26.5
19.5
20
A.W.G. 300/350MCM 180mm2
DBN 180
57
28.5
21
20
A.W.G. 400/500MCM 200mm2
DBN200
63
32.5
24
20
A.W.G. 500/600MCM 325mm2
DBN325
72
37
28
20
Cable Size
ITEM NO.
Size (mm)
pcs/pack
L
D
d
A.W.G. 26-22 0.2~0.5mm2
DBN0.5
12
2
1.5
1000
A.W.G. 22-16 0.5-1.5mm2
DBN 1.25
15
3.5
2
1000
A.W.G. 16-14 1.5-2.5mm2
DBN2
15
4
2.5
1000
A.W.G. 14-12 2.5~4mm2
DBN3.5
15
5
3.5
1000
A.W.G. 12-10 4~6mm2
DBN5.5
15
5.5
4
1000
A.W.G. 8 8mm2
DBN8
21
7
5
500
A.W.G. 6 14mm2
DBN14
26
9
6.5
500
A.W.G. 4 22mm2
DBN22
29
11.5
8.5
250
A.W.G. 2 38mm2
DBN38
32
13
10
200
A.W.G. 1/0 60mm2
DBN60
35
14.5
11.5
100
A.W.G. 2/0 70mm2
DBN70
37
16
12.5
100
A.W.G. 3/0 80mm2
DBN80
38
18
14
100
A.W.G. 4/0 100mm2
DBN 100
38
20.5
16
100
A.W.G. 250/300MCM 150mm2
DBN 150
54
26.5
19.5
20
A.W.G. 300/350MCM 180mm2
DBN 180
57
28.5
21
20
A.W.G. 400/500MCM 200mm2
DBN200
63
32.5
24
20
A.W.G. 500/600MCM 325mm2
DBN325
72
37
28
20