Insulated Blade terminals
PVC Material: Copper, PVC
Operating voltage: 600V
Temperature withstand: 75℃
Surface treatment of brass parts: tin coating
The terminal body: Copper or Brass material,with Tin plating.
The sleeve:Red/Blue/Black/Yellow etc color.
Certificates: ISO9001,CE,ROHS.
Package:100pcs or 1000pcs in bag, box/bag/plastic box outside package.
Features:Fireproof,Insulate,Easy to use
Offer OEM&ODM service.
According different sleeve materials,will be four kinds: PVC insulated terminals,Nylon insulated terminals,Heat shrinkable terminals and Double sleeve Insulated terminals (Easy Entry).
Our insulated terminals &connectors with Ring/Eyelet type,fork/spade type,blade type,pin type, butt connectors, cord end types,male and female bullet connectors,quick connectors etc all kinds for different usage.
Different wire range (A.W.G.) 0.5-1.5, 1.5-2.5, 2.5-4.0, 4.0-6.0mm2(22-16, 16-14, 14-12, 12-10AWG) or screw size (Inch #6, #8, #10, 1/4, 5/16, 3/8, 1/2).
Usage:
put the multi core wire into tube,then use the crimping tools to crimp, insert this cable shoes to brass terminal or electrical applicant.
Application:
help multi core wire connection to brass terminal or electrical applicant,applied for kinds of industrial and mining enterprises such as steel smelting, petrochemical industry, electric power, electron, railway, construction, airport, mine, water supply and drain processing factory, port, store, hotel and so on.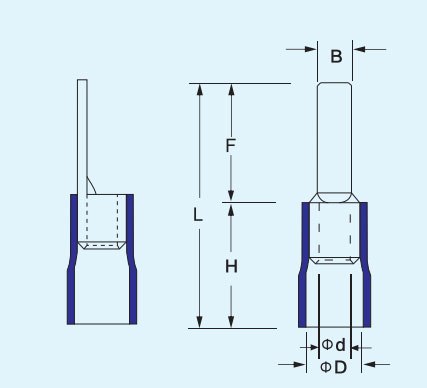 | | | | |
| --- | --- | --- | --- |
| spec(mm²) | 1.25 | 2 | 5.5 |
| Max current(A) | 19 | 27 | 48 |
Cable Size
ITEM NO.
Size (mm)
Copper Thickness
Color
pcs/pack
B
L
F
H
D
d
A.W.G. 22-16 0.5~1.5mm2
DDBV1.25-10
2.5
20
10
10
4.5
2
0.75
red
1000
DDBV1.25-14
2
24
14
1000
DDBV1.25-18
2
28
18
1000
A.W.G. 16-14 1.5 ~ 2.5mm2
DDBV2-10
3
20
10
10
5
2.5
0.8
blue
1000
DDBV2-14
2.5
24
14
1000
DDBV2-18
2
28
18
1000
A.W.G. 12-10 4~ 6mm2
DDBV5.5-10
3
23
10
13
6.5
3.5
1
yellow
1000
DDBV5.5-14
4.5
27
14
1000
DDBV5.5-18
4.5
31
18
500
Blade terminals
Sodd blade terminals are connected to wires with flat conductive blades, no need to solder to make the connection joint more mechanically robust. Both small and large cross-section cable wires are available to crimp.
Blade Terminal Type
PVC blade terminal connectors
Nylon crimp blade terminal
Heat shrink blade terminal
Double crimp blade Terminals
Four type blade terminals can be available for different using functional uses.
Vinyl insulated blade use is common.
Heat shrink blade terminals are popular now worldwide because of their water-proof feature.
Vinyl insulated blade terminal connectors
Nylon insulated crimp blade terminal
Heat shrink insulated blade terminal
Double crimp blade crimp Terminals
Advantage of Sodd female blade terminal
1. Oxygen and moisture free material provide gas-tight connections.
2. No need soldering to make connection joint more mechanically robust
3. Offer a wide range of application since Large and small cross-section wires can be crimped
4. CE & SGS test standard to make the insulated blade terminals more safe and reliable.
Blade terminal using place
Aftermarket audio Aftermarket audio
Consumer electronics Appliances like white goods and brown goods
Terminal blocks, Sockets, circuit breaker, and Wiring, harness in Industrial
Industrial Automation like Electrical panels and circuit boards
This is not a definitive list of applications for this product. It represents some of the more common uses.
Sodd: Your Best Blade Terminals supplier
Sodd Wire Terminals made by high purity copper with good conductivity, and the surface with corrosion resistance tin-plated.
Compared with other companies, Sodd focuses more on user safety while terminal connectors are crimped into the wire. All Sodd wire terminals are produced with more copper and wider funnel to make sure the extra connection gives less work and troubles.
Sodd terminal production line including Insulated Ring Terminal,Insulated Fork Terminals, Splice connectors, Ferrules, Male and Female Disconnects, Heat Shrink Terminals,and Twist on Wire Connectors.
Sodd Blade Terminals can be divided into Insulated Blade Terminals and non-insulated Blade Terminals. Insulated Flat blade terminals are covered by vinyl in red, blue and yellow color.
Different color blade terminal connector coded by different sizes. Standard red color means 22-16 A.W.G with wire range 0.5-1.5mm2, blade length can vary lengths like 10mm, 11mm, 14mm, and 18mm. Blue color means 16-14 A.W.G with wire range 1.5-2.5mm2, blade length can be 9mm, 10mm, 14mm, and 18mm. Yellow color means A.W.G 12-10 with wire range 4-6mm2, blade length can be 10mm, 14mm, and 18mm.
If you this blade type electric connector in other sizes, Sodd can customize for you. Crimp your wire into this flat blade crimp terminals then use the blade instead of the wire to connect to other electric components like PCB board and sockets.
Sodd crimp blade terminals have an extra annealing process to make it stronger and not easy to break. Choose Sodd, Choose safety.