Male and Female Disconnects
Vinyl insulated Male/Female disconnect
Nylon insulated Male/Female disconnects
Heat shrink Male/Female disconnects
Double crimp Male/Female disconnects
Material: Brass, PVC
Operating voltage: 600V
Temperature withstand: 75℃
Surface treatment of brass parts: tin coating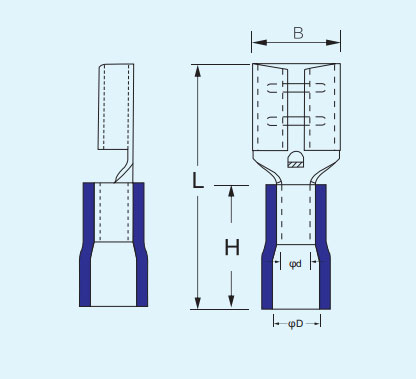 | | | | |
| --- | --- | --- | --- |
| spec(mm²) | 1.25 | 2 | 5.5 |
| Max current(A) | 10 | 15 | 24 |
Cable Size
ITEM NO.
Size (mm)
Copper Thickness
Color
pcs/pack
B
L
D
d
H
A.W.G. 22-16 0.5-1.5mm2
DFDD1.25-110(5)
3.5
19
3.5
2
10
0.35
red
1000
DFDD1.25-110(8)
3.5
19
0.35
1000
DFDD1.25-187(5)
5
19
0.35
1000
DFDD1.25-187(8)
5
19
0.35
1000
DFDD1.25-205
5.5
19
0.35
1000
DFDD1.25-250
6.5
20
0.4
1000
DFDD1.25-312
8
23.5
0.4
1000
A.W.G. 16-14 1.5-2.5mm2
DFDD2-110(5)
3.5
18.5
4.5
2.5
10
0.35
blue
1000
DFDD2-110(8)
3.5
18.5
0.35
1000
DFDD2-187(5)
5
19
0.35
1000
DFDD2-187(8)
5
19
0.35
1000
DFDD2-205
5.5
19
0.35
1000
DFDD2-250
5.5
20
0.4
1000
DFDD2-312
8
23.5
0.4
1000
A.W.G. 12-10 4-6mm2
DFDD5.5-250
6.5
23
5.5
3.5
13
0.4
yellow
1000
DFDD5.5-312
8
26.5
0.4
500
DFDD5.5-375
10
29
0.5
500
Sodd Male and Female Disconnects are used widely due to the vinyl insulated, Nylon insulated, and heat shrink insulated material. Apart from the insulated quick disconnect wire connectors,DIFVAN also provides non-insulated male and female disconnects.
Vinyl insulated male disconnects (MDD TYPE) and female disconnects (FDD TYPE)
Nylon insulated male disconnects (NMDD TYPE) and female disconnects(NFDD TYPE)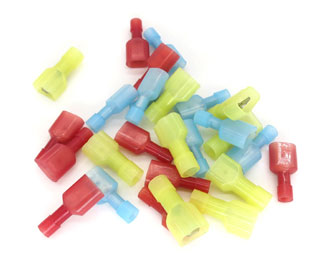 Heat shrink male disconnects (HMDD TYPE) and female disconnects (HFDD TYPE) IMAGE P3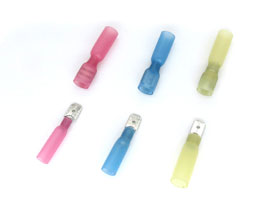 Double crimp male disconnects (MDD-D TYPE) and female disconnects (FDD-D TYPE)
Sodd: Your Best Male and Female Disconnects Manufacturer
Different from Ring Terminal and Fork Terminal, Sodd Male disconnects and female disconnects are made with brass to keep them from deformation while slipping the tongue of male part over the female tab. Brass material is harder than copper.
All terminal manufacturers choose brass material to make this male-female wire connector. It helps to offer superior holding force while dents and rolled edges of these female disconnects.
Funnel-entry design, color coded PVC chloride sleeves assuring easy installation of Sodd female and male wire connectors, to avoid strand hang-ups and wire twisting, and to make it easy insulation.
When connected to electric wires, pre-insulated PVC offers good dielectric strength. Sodd color-coded male and female disconnect terminal have a tongue portion with fingers that grip a male quick slide and a tongue extension which is to be gripped by a female quick slide.
Red male disconnects connected to red female disconnects to be considered as a pair. Nema tab of female disconnects should be matched with male disconnects.
For example: when you choose insulated male disconnects in A.W.G 22-16, means wire range 0.5-1.52, tab size is 0.8*6.35. To make it a pair, the female disconnects should also be A.W.G 22-16, Tab size 0.8*6.36. Otherwise, it cannot be slipped to the tongue.
Except for PVC insulation, Nylon and heat shrink male and female quick disconnects are also available for different using environment.
Application of push on connectors varies from electric panels, industrial automation, wiring harness, terminal block, and consumer electronics.
Sodd not only provides wire connectors but also can provide solutions for the wiring harness.