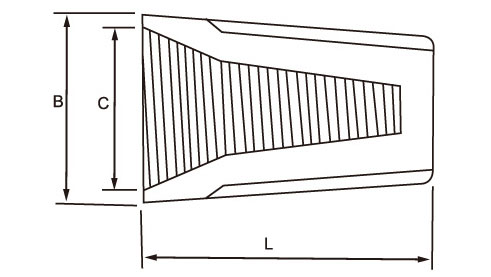 No.
Item No.
Cable Arrange
Dimension(mm)
Color
B
C
L
1
SP1
Min 0.75×1+0.5×1 Max 1.5×2
8.5
6.7
15
Gray
2
SP2
Min 0.75×3 Max 1.5×3
10.1
7.4
17.5
Blue
3
SP3
Min 0.75×3 Max 1.5×3+1×1
12.6
9.9
22.1
Orange
4
SP4
Min 0.25×1+0.75×1 Max 2.5×4+0.75×1
13.7
11
24.5
Yellow
5
SP6
Min 0.25×2 Max 6×2+4×4
16
13
26.5
Red
HIGH QUALITY Orange Wire Connector Designed to connect wires of 22 through 14 gauge
For use in Electrical Appliances, Lighting, and Building Wiring
Color-Coded for Easy Size Selection - Reusable for Easy Circuit Changes and Additions
Tough, UL 94V-2 Flame Retardant Shell will not Crack or Break, even when applied to maximum wire combinations under extreme pressure
Building Wiring; 1000V Max. in Lighting Fixtures/Luminaires and Signs
Screw Connector
Sodd screw on wire connector is also named twist on wire connectors and wire nuts.
These wire nuts are used to fasten two or more low-voltage electric conductors.
This twist on wire connectors are designed to improve the two wire ends connection instead of just twisting two wires in before use.
Usage

Screw on wire connector
We have a full range of terminals including Ring Terminal, Fork Terminal, male and female disconnect, butt connector, quick splice connector, Pin terminal, Blade Terminal, Wire nuts, and closed-end terminals.
The most popular one is wire nuts.
Sodd wire nuts are made with PVC insulation and stainless steel with thread inside.
Twist two wire ends then insert the two wire ends into the stainless steel part by hand, squeezed together inside it.
The threads can hold the wire securely.
Electrical connections can be maintained by twisted wire to wire contact with the metal insert directly.
In this way, wire nuts also can be called twist on wire nuts.
Advantage
Easy entry to make the wire more easy to insert in
Standard wire nut and wire nuts with wing both available
Wire nut kit can be OEM
Sodd: The Best Screw Connector Manufacturer
Wire nuts are also known as twisted nuts, electric nuts, crimp wire nuts which are widely used in North America in junction boxes and distribution boxes.
When you use the wire nuts, please make sure to twist the conductors together before applying the wire nut.
The reason for doing this is because when joining three or more wires, you have loose conductors "hidden" in the group of conductors resulting in a tight wire nu but an internal conductor that was not engaged in the wire nut.
You would not know this after the wire nut is applied.
The more wires in the connection, the greater the risk of a loose conductor unless you pre-twist the conductors.
Sodd wire nuts are available in various sizes and types. Color-coded by different sizes.
If you need 8 gauge wire nuts, please choose yellow wire nuts.
If 12 gauge wire nut needed, green wire nuts will be your choice.
Please do choose properly sized wire nuts as per your wire sizes.
Otherwise, the connection will loosen after you've twisted the wires.
Waterproof wire nuts with glue inside can be used even in moisture circumstances.
Ceramic twist-on connectors are made for high-temperature applications, such as heating appliances.
Any other quick splice connectors needed, kindly contact Sodd.