PVC Material: Copper, PVC
Operating voltage: 600V
Temperature withstand: 75℃
Surface treatment of brass parts: tin coating
The terminal body: Copper or Brass material,with Tin plating.
The sleeve:Red/Blue/Black/Yellow etc color.
Certificates: ISO9001,CE,ROHS.
Package:100pcs or 1000pcs in bag, box/bag/plastic box outside package.
Features:Fireproof,Insulate,Easy to use
Offer OEM&ODM service.
According different sleeve materials,will be four kinds: PVC insulated terminals,Nylon insulated terminals,Heat shrinkable terminals and Double sleeve Insulated terminals (Easy Entry).
Our insulated terminals &connectors with Ring/Eyelet type,fork/spade type,blade type,pin type, butt connectors, cord end types,male and female bullet connectors,quick connectors etc all kinds for different usage.
Different wire range (A.W.G.) 0.5-1.5, 1.5-2.5, 2.5-4.0, 4.0-6.0mm2(22-16, 16-14, 14-12, 12-10AWG) or screw size (Inch #6, #8, #10, 1/4, 5/16, 3/8, 1/2).
Usage:put the multi core wire into tube,then use the crimping tools to crimp, insert this cable shoes to brass terminal or electrical applicant.
Application:help multi core wire connection to brass terminal or electrical applicant,applied for kinds of industrial and mining enterprises such as steel smelting, petrochemical industry, electric power, electron, railway, construction, airport, mine, water supply and drain processing factory, port, store, hotel and so on.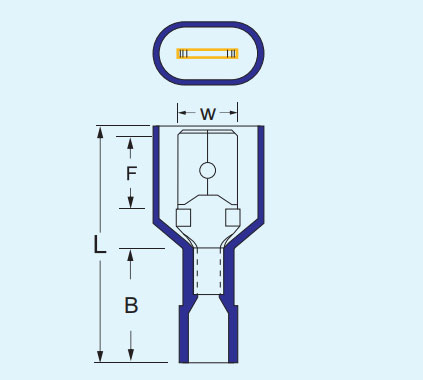 | | | | |
| --- | --- | --- | --- |
| spec(mm²) | 1.25 | 2 | 5.5 |
| Max current(A) | 10 | 15 | 24 |
Cable Size
ITEM NO.
Size (mm)
Copper Thickness
Color
pcs/pack
W
F
L
B
D
C
A.W.G. 22-16 0.5-1.5mm2
DMDFN1.25-250
6.35
7.5
24
11
4
2
0.4
red
500
A.W.G. 16-14 1.5~2.5mm2
DMDFN2-250
6.35
7.5
24
11.5
4.5
2.5
0.4
blue
500
A.W.G. 12-10 4~6mm2
DMDFN5.5-250
6.35
8.5
25
11.5
6
3.5
0.4
yellow
500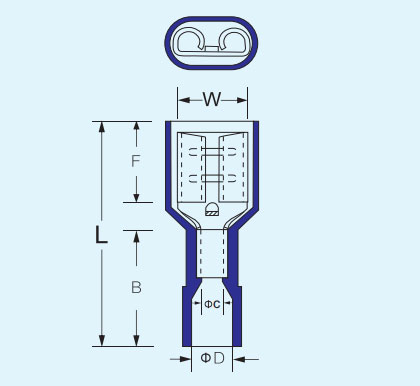 | | | | |
| --- | --- | --- | --- |
| spec(mm²) | 1.25 | 2 | 5.5 |
| Max current(A) | 10 | 15 | 24 |
Cable Size
ITEM NO.
Size (mm)
Copper Thickness
Color
pcs/pack
W
F
L
B
D
C
A.W.G. 22-16 0.5-1.5mm2
DFDFN1.25-250
6.5
7.5
22.5
11.5
4
2
0.4
red
1000
A.W.G. 16-14 1.5~2.5mm2
DFDFN2-250
6.5
7.5
22.5
11.5
4.5
2.5
0.4
blue
1000
A.W.G. 12-10 4~6mm2
DFDFN5.5-250
6.5
7.5
24
13
6.5
3.5
0.4
yellow
500